Canisius Wilhelmina Ziekenhuis
Nijmegen, Netherlands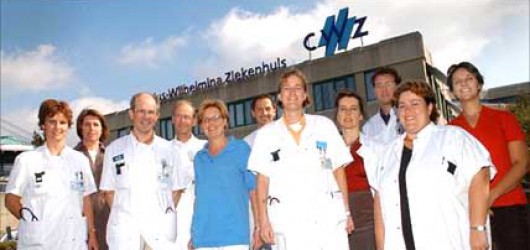 327

New breast cancer cases treated per year

19

Breast multidisciplinarity team members
Radiologists, surgeons, pathologists, medical oncologists, radiotherapists and nurses
Clinical Director: Luc Strobbe, MD, PhD
The Nijmegen Breast Unit (Canisius Hospital) is one of the largest BU in the eastern part of the Netherlands. We focus on patient-centered, quality-driven care and cure. If possible a one-stop shop diagnosis and treatment planning is provided. Four breast care nurses, four breast radiologists, dedicated pathologists and three breast surgeons provide the patient with up to date information, complete diagnosis and integrated therapy. Sentinel node biopsy is routinely performed. Breast conserving surgery is increasingly using oncoplastic principles. I-125 seed localization and peroperative US are standard of care. Immediate breast reconstruction is routinely offered when ablative therapy is indicated. All cases are discussed in a multidisciplinary panel prior to primary treatment and again after surgical treatment. Radiation treatment is given in close cooperation with the Radboudumc. All modalities of systemic treatment can be offered, including neo-adjuvant and herceptin. Attention is given to optimal hormonal treatment. In this field we participate(d) in several clinical trials. Great care is given to the patient as a person in relation to her environment.
CERTIFICATION(S) ACCREDITATION(S)
Expiration date:  03 October 2016
Borstkanker vereniging Nederland
This Centre has notified to be certified and, as such, been requested to upload the certification document for further information. When the certification document/s is/are provided, it is/they are made available hereafter.
Canisius Wilhelmina Ziekenhuis
Weg door Jonkerbos 100
6532 SZ Nijmegen, 
Phone: +31243658720
Fax: +31243658725
E-mail: ljastrobbe@cwz.nl
Web-site: www.cwz.nl
Last modified: 09 November 2018