Verum Clinic
Kiev, Ukraine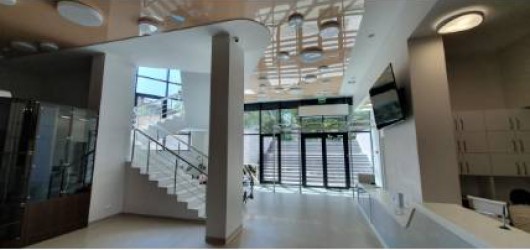 194

New breast cancer cases treated per year

19

Breast multidisciplinarity team members
Radiologists, surgeons, pathologists, medical oncologists, radiotherapists and nurses
Clinical Director: Denys Pominchuk, PhD
On the basis of the Medical Center 'VERUM' there is a modern breast unit consisting of 2 onco-surgeons, 1 plastic surgeon, 2 medical oncologists, a radiologist and 2 radiologist's physicians. On the basis of the clinic, patients can go through all kinds of diagnostic studies, regarding breast pathology and annual proactive examinations. In the breast department, all types of biopsies are performed in the nodular formations of the mammary gland. Breast surgery is represented by a wide range of interventions: lumpectomy, lumpectomy with lymph node sampling, symmetrizing operations, reconstructive plastic surgery with the use of expanders and implants as one-step and delayed, augmentation and reduction of mammary glands. The department has facilities for chemotherapy treatment of patients and international clinical trials. The clinic practices a multidisciplinary approach with the inclusion of doctors of all specialties in the consultation: an oncologist, a plastic surgeon, a clinical oncologist, a radiologist, a medical radiologist and a pathologist.
CERTIFICATION(S) ACCREDITATION(S)
Expiration date:  17 May 2020

Ministry of Health

This Centre has notified to be certified and, as such, been requested to upload the certification document for further information. When the certification document/s is/are provided, it is/they are made available hereafter.

 
Last modified: 08 July 2019